If you find yourself pushing heavy carts by hand or running a forklift back and forth, a compact Movexx push-pull assist may be the missing link in your lean material flow! Push-pull assists (AKA push-pull assistants or "tuggers") are great for a variety of applications, from medical to industrial to high-tech.
Ergonomic: These tuggers from Movexx can pull thousands of pounds and keep your employees comfortable! Ergonomic operation and low noise levels (70 dB) make these a perfect addition to any space.
Efficient: Chain together several carts for a "train" behind the tugger, and replace up to 2-3 forklift runs. The tugger is amazingly agile – able to maneuver into and out of tight spaces easily.
Easy: Even inexperienced users can operate the Movexx tuggers with minimal training, and no specialized licenses are required. Battery pack (available on some models) lifts off for charging – no fuel, no fumes!
Versatile: Add and modify attachments to suit your needs: tow bars, hooks, even lifters! With the right attachment, Movexx tuggers can push or pull anything with wheels.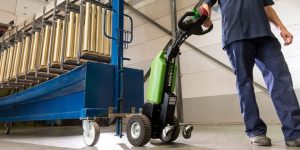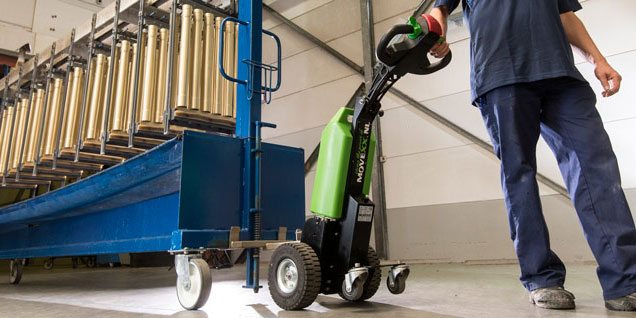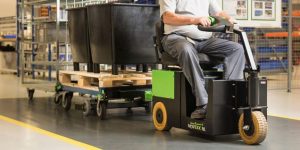 Images courtesy of Movexx.
Movexx Tuggers – Which one's right for you?
Tips: If viewing on mobile, swipe to view more to the right. To sort columns, click the blue column header.
| MODEL | IMAGE | STYLE | WEIGHT | LOAD CAP. | REMOVABLE BATTERY | MAX SPEED | WIDTH | LENGTH | MAX HT. | SPECS |
| --- | --- | --- | --- | --- | --- | --- | --- | --- | --- | --- |
| T1000-Basic | | Push/Pull | 095 lbs. | 2,200 lbs. | | 3 MPH | 440mm | 756mm | 1,056mm | Download T1000-Basic Datasheet (PDF) |
| T1000 | | Push/Pull | 095 lbs. | 2,200 lbs. | X | 3 MPH | 438mm | 920mm | 985mm | Download T1000 Datasheet (PDF) |
| T1000-D | | Push/Pull | 255 lbs. | 2,200 lbs. | X | 3 MPH | 445mm | 1,176mm | 1,155mm | Download T1000-D Datasheet (PDF) |
| T1000-RZ | | Push/Pull | 340 lbs. | 2,200 lbs. | X | 2.5 MPH | 638mm | 1,230mm | 1,269mm | Download T1000-RZ Datasheet (PDF) |
| T1000-Platform | | Ride-On (Standing) | 155 lbs. | 2,200 lbs. | X | 4 MPH | 450mm | 1,226mm | 1,261mm | Download T1000-Platform Datasheet (PDF) |
| T1000-CleanRoom | | Push/Pull | 095 lbs. | 2,200 lbs. | | 3 MPH | 462mm | 767mm | 1,055mm | Download T1000-CleanRoom Datasheet (PDF) |
| T1500 | | Push/Pull | 230 lbs. | 3,300 lbs. | X | 3 MPH | 483mm | 876mm | 1,177mm | Download T1500 Datasheet (PDF) |
| T1500-D | | Push/Pull | 395 lbs. | 3,300 lbs. | X | 3 MPH | 486mm | 1,232mm | 1,158mm | Download T1500-D Datasheet (PDF) |
| T2500 | | Push/Pull | 565 lbs. | 5,500 lbs. | | 3 MPH | 511mm | 757mm | 1,278mm | Download T2500 Datasheet (PDF) |
| T2500-CleanRoom | | Push/Pull | 550 lbs. | 5,500 lbs. | | 3 MPH | 513mm | 1,147mm | 1,066mm | Download T2500-CleanRoom Datasheet (PDF) |
| T2500-Platform | | Ride-On (Standing) | 660 lbs. | 5,500 lbs. | | 5 MPH | 511mm | 1,595mm | 1,336mm | Download T2500-Platform Datasheet (PDF) |
| T2500-Scooter | | Ride-On (Seated) | 660 lbs. | 5,500 lbs. | | 5 MPH | 511mm | 1,237mm | 1,075mm | Download T2500-Scooter Datasheet (PDF) |