Custom Designed Equipment to Improve Lean Manufacturing. Let's Build.
Conveyors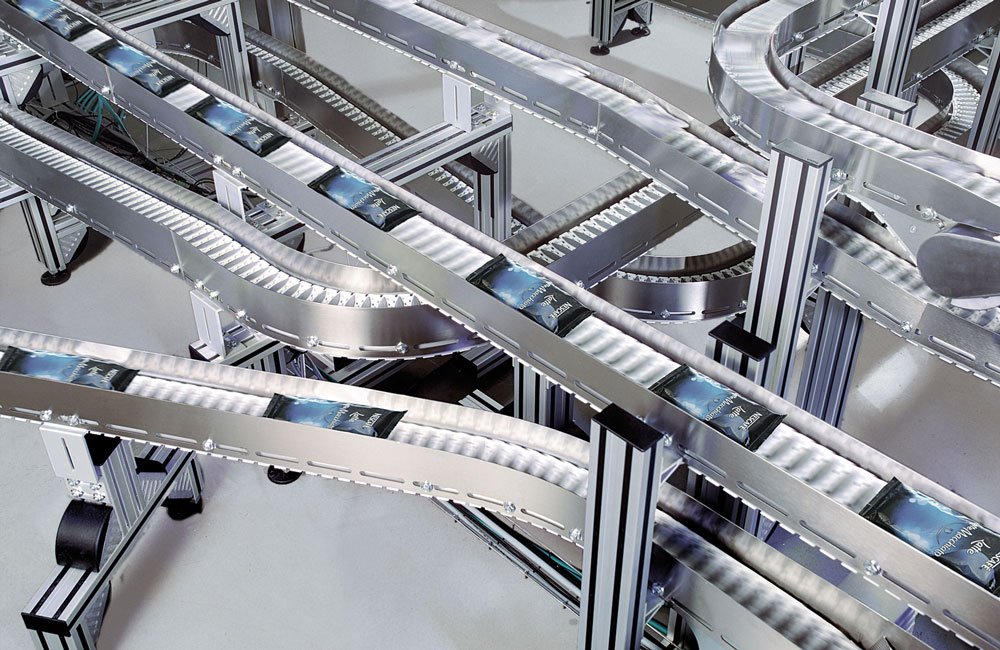 From parts bins to pallets and everything in between, materials need efficient ways to get from place to place within your production environment. And we can't think of a better way than modular conveyor systems. Reduce strain on your employees and make your process more efficient! You can choose from a variety of conveyor options to suit any size piece and any material flow needs:
Workstation-mounted conveyor fixtures to efficiently move product from station to station within a workcell
Flow-rack mounted conveyor fixtures to speed picking and handling processes
Motorized conveyors for various needs:

Transfer System (TS) models for stop-and-go or large assembly line work
VarioFlow chain conveyors for fast-moving lines; great for cans, packages or other small items (even capable of 90-degree vertical transport!)

Rollers, skate wheels, Span-Track, ball rollers… you name it, we can deliver the best options in manual (gravity) conveyor systems
Customizable options for any width, even irregularly-shaped objects
Powered Conveyors
VarioFlow – Plastic chain transfer conveyor
Transfer System – Assembly conveyor with pallets
Active Mover – Linear motor conveyor with pallets
Manual Conveyors
EcoFlow – Cylindrical roller track components
MPS – Wheel roller track components
UNEX – Rollers or skate wheel gravity conveyor sections
Custom Designed Equipment to Improve Lean Manufacturing
At FlexMation, we aim to be trusted partners. Allies who advance your manufacturing performance. Simply put: We help you do your job better, safer, faster and smarter.
We manufacture custom aluminum extrusions and create beautiful custom workstations, FIFO racks, carts and other equipment to improve productivity and safety in manufacturing, industrial and high-tech environments. Whatever your goal, we'll help you get there. Ready? Let's build.